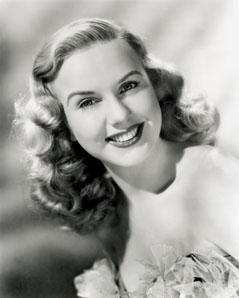 91 year old Deanna Durbin has passed away. I was terribly saddened by this news, she was always a heroine of mine. I spent a great deal of my childhood watching her films on Saturday afternoons, pretending that I was her in those beautiful dresses or running around the fields singing and dancing.
She never really hit the big time like Judy Garland or Doris Day despite having quite a successful career from the age of 14. She was born in Canada but moved to California when she was still a baby, a child star she was best known for her powerful voice. interestingly I recently bought the collection of her films on DVD to share with Matilda as she grows up.
Image from operagloves.com
Deanna was an all round performer. A wholesome girl next door with the sweetest yet most powerful voice. A breath of fresh air on screen she lit up every film she graced. Her career in film ended with her rejection of the studio's plans for her. As is perfectly natural for an actor when they reach a certain stage in their career they want versatility and challenge. Sadly those in the hiring position want certainty and cast to type. So when Deanna wanted more interesting roles
"I can't run around being a Little Miss Fix-It who bursts into song – the highest-paid star with the poorest material."
the studios wouldn't comply. So MGM left her out in the wilderness with the occasion role.
Image from ticketsinventory.com
In 1950, after her third marriage, she abandoned Hollywood and the ever unsupportive studio for a reclusive life in France. Sadly no more nostalgic films for us but in a way that's what makes the ones we have so special.
If you don't know her work then do have a listen to
I love to whistle
a particular favourite of mine. I also found
this
amazing footage of Deanna and Judy Garland singing together.
Deanna you will always remain one of the most beautiful and talented Hollywood starts, the films you made will outlive you and continue to entertain generations to come.