If you're a Londoner or planning a trip to London in the next few months, a must see exhibition that should not not be missed is taking place right now at the
Victoria and Albert Museum
in South Kensington. David Bowie Is is a revolutionary, fascinating and highly educational exhibition. Focusing on what inspired Bowie it is a real opener. You really don't have to be a die hard Bowie fan like my husband to enjoy it.
The spectacle that is his costumes or should I say creations are worthy of the work of art tag. He took inspiration from the world of art, literature, film developing his own unique brand from the amalgamation of these sources. High camp, glamour and art installations fill each room, with his music unifying this extraordinary show. This is a fantastic example of how new technology and old fashioned curating can work hand in hand in delighting the spectator.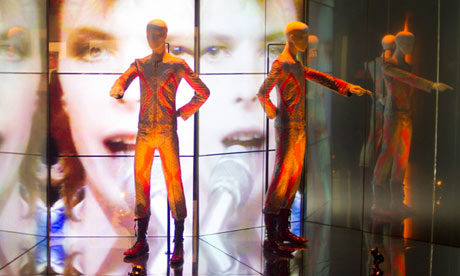 Photograph: Bogdan Maran/EPA
After seeing this I can see how Bowie certainly merits being crowned the single most influential artist of our lifetime (the only competition being Elvis). His influence spreads far and wide both musically and visually. A captivating look into his method of working but also into his imagination, you don't feel like you completely get to know the man himself only what he has allowed you to see. Somehow I got the impression there was an awful lot more to be revealed. Nevertheless, it is without a doubt worth fighting the crowds to take a look into the crazy world of David Bowie, and how he went from being an ordinary Brixton boy to the international star we know today.